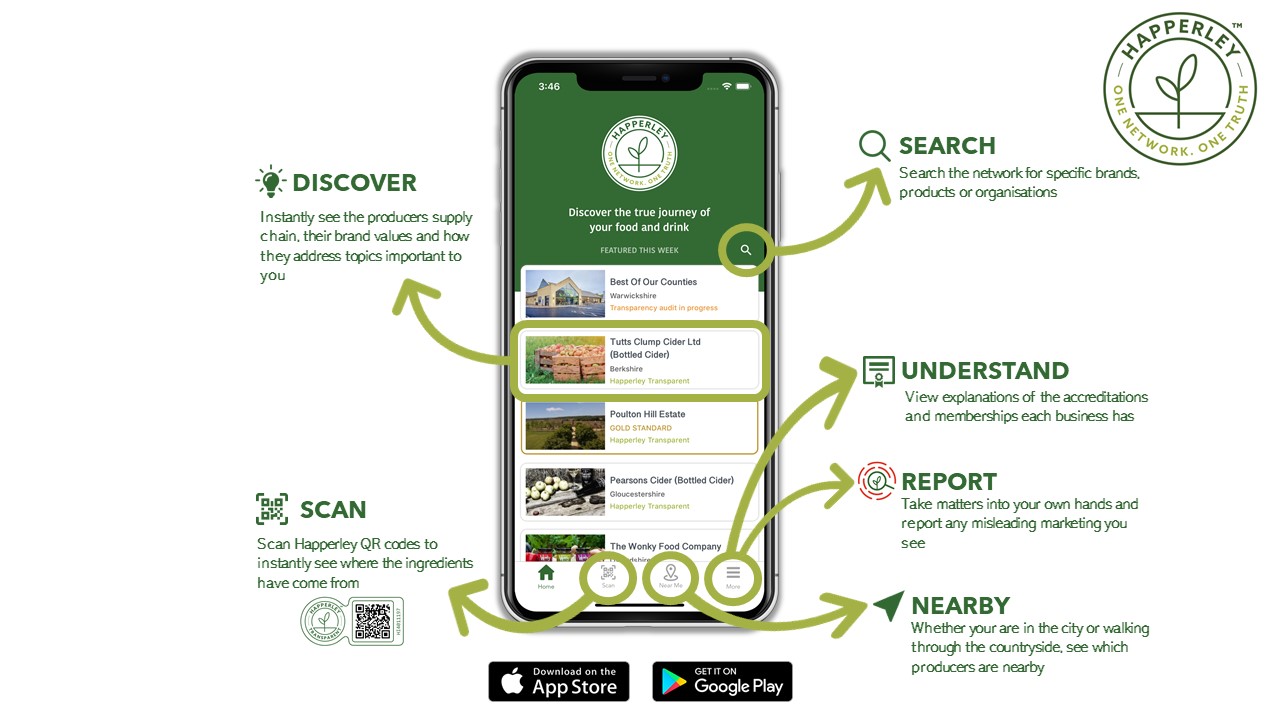 Happerley launches major update to their iOS app
HAPPERLEY has been on a steep growth curve in the past six months with new campaigns, projects and some major new clients which has given them the opportunity to further develop their in-house systems, the Happerley Network and of course the Happerley apps.
With the most recent update to the iOS version of the Happerley app there has been a number of new and exciting features that have been added, which will enhance both the user experience and the way in which businesses can be represented.
The November iOS updates include:
NEW – Organisations
The inclusion of a large database of organisations within the food and drink industry can be accessed by users to view, learn and understand the mission, and function of each one. These can include membership, pedigree and certification organisations plus more.
NEW – Supplier Accreditations and Memberships
With the introduction of the organisations section within the app it has enabled the ability for Happerley Transparent food and drink suppliers to list any accreditations or memberships they may hold. This could include Red Tractor or SALSA accreditations, to memberships for pedigree societies and other associations. These will be listed on the supplier's profile and will give users the chance to finally understand what they all mean and why they are important.
NEW – Featuring Gold Standard and Provenance Champions
Gold Standard Suppliers and Provenance Champions are food and drink businesses that deserve to stand out to users. You can find out why they are special here (
Gold Standard
/
Provenance Champion
). Each supplier with one of these special statuses will now be highlighted thus setting them apart from others.
NEW – Supply chain search and filter function
With Happerley growing the number and size of clients has increased with ever growing supply chains. Happerley has implemented a search and filter functionality on each business supply chain, thus allowing users to search quickly and easily for specific ingredients, products and product categories.
IMPROVED – Network search and filter functions
The app now has the same Happerley Network search and filter functionality as the main website. This will allow app users to search the entire Happerley Network for businesses based on a number of variables including product type, certifications status, business type, business name and held accreditations or memberships.
With the recent updates the app delivers even more information directly to the consumer, empowering them to make better informed purchases by understanding not only where the ingredients of their food or drink is from, but also what each accreditation for a business means and why it is important. This will enable users to form their own preferences based on what is important to them, plus with the new search and filter function for the network, it makes it easier for users to navigate the network and find specific business, this also opens up utility for B2B sales.
If you haven't already downloaded the app do check it out! Available on both iOS and Android. *
(*The Android version of the Happerley app will follow with the same update in the coming months)